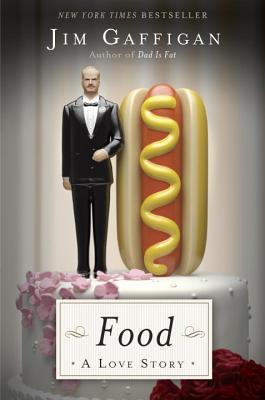 Food: A Love Story
N/A
Humor
Crown Archetype
October 21st, 2014
Hardcover
340
Blogging for Books, in exchange for review
Synopsis:
"What are my qualifications to write this book? None really. So why should you read it? Here's why: I'm a little fat. If a thin guy were to write about a love of food and eating I'd highly recommend that you do not read his book."
Bacon. McDonalds. Cinnabon. Hot Pockets. Kale. Stand-up comedian and author Jim Gaffigan has made his career rhapsodizing over the most treasured dishes of the American diet ("choking on bacon is like getting murdered by your lover") and decrying the worst offenders ("kale is the early morning of foods"). Fans flocked to his New York Times bestselling book Dad is Fat to hear him riff on fatherhood but now, in his second book, he will give them what they really crave—hundreds of pages of his thoughts on all things culinary(ish). Insights such as: why he believes coconut water was invented to get people to stop drinking coconut water, why pretzel bread is #3 on his most important inventions of humankind (behind the wheel and the computer), and the answer to the age-old question "which animal is more delicious: the pig, the cow, or the bacon cheeseburger?"
Review:
I honestly expected Food: A Love Story to be more like a collection of essays than a collection of stand-up comedy bits. But it reads EXACTLY like watching Gaffigan do stand-up (which, as I'm a Gaffigan fan, was no issue at all).Like traditional cookbooks, it's divided into sections for main dish, dessert, etc. with sub-sections like "Crackers: Adult Junk Food". This is a super quick read because each "bit" is self-contained, and only a page or two in length. They're filled with caustic, true observations about our love of food (not just Gaffigan's) especially food that tastes great but we know is bad for us.
He hits the nail on the head with these universal experiences. And the voice is so authentically him that I found myself hearing it as if he was performing standup right in front of me. I could even visualize it.
One warning: if you've seen a lot of his standup, it may feel redundant. I still laughed at the Hot Pocket sub-section, though. To me, a funny truism is a funny truism even if I hear it three or four times.
If you enjoy stand-up comedy, food, and humorous essays, you'll like this one!
Rating: 

B

Buy it on Amazon, or at The Book Depository, or add it on Goodreads