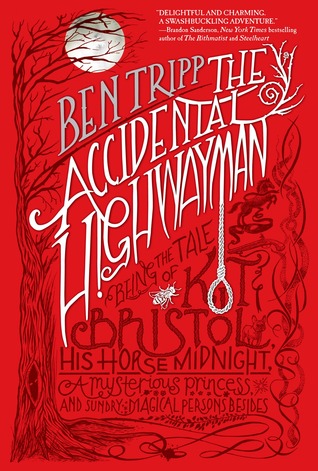 The Accidental Highwayman: Being the Tale of Kit Bristol, His Horse Midnight, a Mysterious Princess, and Sundry Magical Persons Besides
Adventures of Kit Bristol
Young Adult, Fantasy, Historical Fiction
Tom Doherty Associates
October 14th, 2014
Audiobook
304
My local library
Synopsis:
In eighteenth-century England, young Christopher "Kit" Bristol is the unwitting servant of notorious highwayman Whistling Jack. One dark night, Kit finds his master bleeding from a mortal wound, dons the man's riding cloak to seek help, and changes the course of his life forever.
Mistaken for Whistling Jack and on the run from redcoats, Kit is catapulted into a world of magic and wonders he thought the stuff of fairy tales.
Bound by magical law, Kit takes up his master's quest to rescue a rebellious fairy princess from an arranged marriage to King George III of England. But his task is not an easy one, for Kit must contend with the feisty Princess Morgana, gobling attacks, and a magical map that portends his destiny: as a hanged man upon the gallows…
Review:
The Accidental Highwayman is a swashbuckling historical fantasy that was like a breath of fresh air. With a cheeky, self-aware sense of humor and a style reminiscent of Neil Gaiman and Eli Brown, it was an utterly charming listen. To be fair, some of that always lands in the lap of the narrator- in this case, the talented, sexy-voiced Steve West (what? I can't resist a lovely British accent, ok?). His ability to slip into different tones and accents that made characters well fleshed and aurally recognizable was lovely.
About the story itself: it's lighthearted and a constant romp (as you can tell by the ridiculous title), weaving classic faerie mythology with the late-1700s Britain. There are themes of friendship, romance, coming into one's own, what goodwill truly is, and then there's magic. It reminded me a lot of The Princess Bride, but somewhat less cumbersome in random details.
In fact, it's rated as a Young Adult, but I think the wry humor is more aimed at adults. And certainly the tones of myth throughout may go over the heads of younger readers, particularly if they're looking for a story with contemporary relevance and modern interpretations (i.e. Romantic) of romance.
In all, I highly recommend it for readers who are fans of stories like Neil Gaiman's Stardust. And do listen to the audiobook. I hear the printed version has some lovely pictures, but other reviewers have mentioned feeling bogged down midway through the book, and the audiobook version of the story definitely didn't feel that way to me.
Rating: 

A

Buy it on Amazon, or at The Book Depository, or add it on Goodreads