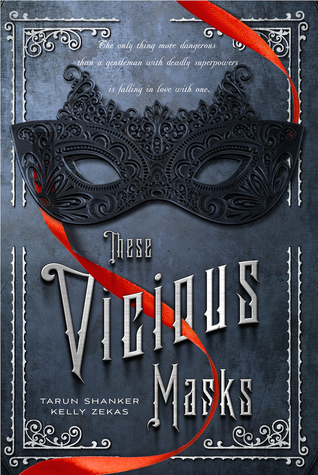 These Vicious Masks
These Vicious Masks, #1
Fantasy, Historical Fiction
Swoon Reads
February 9th, 2016
eBook
320
Purchased
Synopsis:
Jane Austen meets X-­Men in this gripping and adventure-­filled paranormal romance set in Victorian London.
England, 1882. Evelyn is bored with society and its expectations. So when her beloved sister, Rose, mysteriously vanishes, she ignores her parents and travels to London to find her, accompanied by the dashing Mr. Kent. But they're not the only ones looking for Rose. The reclusive, young gentleman Sebastian Braddock is also searching for her, claiming that both sisters have special healing powers. Evelyn is convinced that Sebastian must be mad, until she discovers that his strange tales of extraordinary people are true—and that her sister is in graver danger than she feared.
Review:
Well, I love Jane Austen and I love The X-Men, so you can imagine that the first tag line hooked me before this book was even released. And it did not disappoint!
This story is fun and well-paced, more akin to X-Men in detail than any Jane Austen, although it also takes place in Victorian England (I know, I know, Austen was Regency- but the female protagonist is very much Over Society's B.S., living in the country, with shades of Lizzie Benet).
This plot has action, romance, character growth, consequences, and some very funny moments. There's a love triangle, but definitely no 'easy out' of it (not for the character, and not for the reader, as both men are morally grey and wonderful in their own ways). There are also a lot of secondary characters, which you know I adore.
If you enjoy historical fiction, witty characters, believable romance, fantastical scenarios juxtaposed with harsh human-nature reality, and action/adventure romps, you should definitely read this one. I, for one, am eagerly awaiting the sequel.