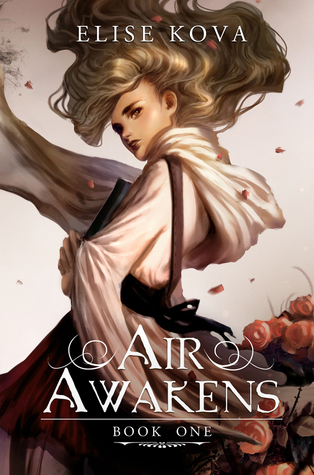 Air Awakens
Air Awakens, #1
Fantasy, Young Adult
Silver Wing Press
August 27th, 2015
eBook
287
Gifted by Lauren at Live, Love, Read YA
Synopsis:
A library apprentice, a sorcerer prince, and an unbreakable magic bond…
The Solaris Empire is one conquest away from uniting the continent, and the rare elemental magic sleeping in seventeen-year-old library apprentice Vhalla Yarl could shift the tides of war.
Vhalla has always been taught to fear the Tower of Sorcerers, a mysterious magic society, and has been happy in her quiet world of books. But after she unknowingly saves the life of one of the most powerful sorcerers of them all—the Crown Prince Aldrik—she finds herself enticed into his world. Now she must decide her future: Embrace her sorcery and leave the life she's known, or eradicate her magic and remain as she's always been. And with powerful forces lurking in the shadows, Vhalla's indecision could cost her more than she ever imagined.
Review:
You know how there's amazing adult-end YA and more shallow, middle-grade-end YA? This is the latter. It's…ok? Mostly it's shallow. The bad guy is slimy with no reason behind his mustache twirling, the brooding prince is brooding, and the best friends are easily chucked aside by a girl who loves books but displays a startling lack of analytical thinking.
It's the usual Chosen One trope, with not a lot explained about the magic because (of course) she's the first Windwalker in over a century. There's a not-too-subtle indication that her powers will be eased for eeeeeevil (read: killing, in a war of empire-building in which her kingdom is the aggressor). There's the predictable backlash of scared ignorant peasant folk when it comes to the use of magic. And there's the girl who captures the prince's heart by being…I'm not sure what. Obnoxious, but curious.
I think reading Uprooted has ruined me for YA Fantasy. I'm sure there's nothing wrong with Air Awakens, it just bored the heck out of me and felt very shallow. Clearly, my bar has been raised. I'd say this is a good read for 14-18 year olds who enjoy fantasy.