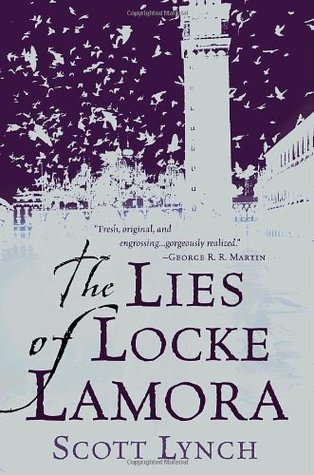 The Lies of Locke Lamora
Gentleman Bastard, #1
Fantasy
Bantam Spectra
July 27th, 2006
Audiobook
499
My local library
Synopsis:
An orphan's life is harsh — and often short — in the island city of Camorr, built on the ruins of a mysterious alien race. But born with a quick wit and a gift for thieving, Locke Lamora has dodged both death and slavery, only to fall into the hands of an eyeless priest known as Chains — a man who is neither blind nor a priest.A con artist of extraordinary talent, Chains passes his skills on to his carefully selected "family" of orphans — a group known as the Gentlemen Bastards. Under his tutelage, Locke grows to lead the Bastards, delightedly pulling off one outrageous confidence game after another. Soon he is infamous as the Thorn of Camorr, and no wealthy noble is safe from his sting.
Passing themselves off as petty thieves, the brilliant Locke and his tightly knit band of light-fingered brothers have fooled even the criminal underworld's most feared ruler, Capa Barsavi. But there is someone in the shadows more powerful — and more ambitious — than Locke has yet imagined.
Known as the Gray King, he is slowly killing Capa Barsavi's most trusted men — and using Locke as a pawn in his plot to take control of Camorr's underworld. With a bloody coup under way threatening to destroy everyone and everything that holds meaning in his mercenary life, Locke vows to beat the Gray King at his own brutal game — or die trying…
Review:
If you enjoy stories with a fantastic ensemble cast, a roguish MC, heists and twisty plots, revenge stories where you cheer for the revenger, Italian-esque settings, fantasy stories that are human-nature-driven, and layers of mystery….you should totally listen to the audiobook of this story. The story is fantastic, but the audiobook blew me away. I'm half in love with the narrator, for his skill with accents and pacing, and his ability to swear SO MUCH without it ever seeming gratuitous.
Speaking of love, Locke Lamora is a fantastic character- flawed, brilliant, loyal, humorous, and driven. And the entire cast is fantastic, even the reprehensible ones. As I was listening, I was cringing, laughing aloud, yelling at characters…utterly engrossed. I am so, so glad this was the first in a series because I need to spend more time with these guys, in this world.
I don't want to say too much and give anything away, but I recommend it to everyone.