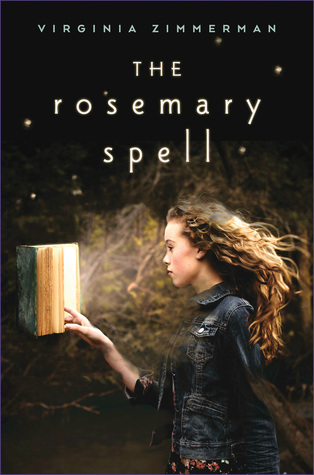 The Rosemary Spell
N/A
Middle Grade, Fantasy, Mystery
Clarion Books
December 1st, 2015
Hardcover and Digital
280
Amazon
Synopsis:
Part mystery, part literary puzzle, part life-and-death quest, and chillingly magical, this novel has plenty of suspense for adventure fans and is a treat for readers who love books, words, and clues. Best friends Rosie and Adam find an old book with blank pages that fill with handwriting before their eyes. Something about this magical book has the power to make people vanish, even from memory. The power lies in a poem—a spell. When Adam's older sister, Shelby, disappears, they struggle to retain their memories of her as they race against time to bring her back from the void, risking their own lives in the process.
Review:
Beth's thoughts
This is, to be honest, one of the best middle grade books I've ever read. In fact, I'd call this more a YA than an MG. A YA with layers of theme and story, and a realistic handling of growing up. Add to this multiple references to Shakespeare *and* YA/MG novels I love, and you've got an amazing story.
I actually read this in two days. And it was super tough to stop every two chapters and consider discussion questions for a Facebook group. But that was only because the pace was excellent and the tension was nonstop. The levels of meaning in this story were numerous: belief creates reality, community consensus drives identity, words are magic, friendships define us, poetry transcends, parenting is more about being there than being blood, memory shapes life, etc.
And above and beyond those concepts, I loved the consistent handling of friendship in the book. I love the author's less-is-more approach (similar to poetry, right?) although she avoided flowery metaphor and generalized vagueness. It was more like: here's a cake with multiple layers, and you bring your own subtext, but it's going to be delicious even if only on one layer. OK, maybe that simile didn't work as well as I hoped. Regardless, I loved this book and I highly recommend it to everyone who is OK with a novel where the protagonists are teenagers.
Angie's thoughts
(coming soon…)
Kenzie's thoughts
(coming soon…)
Rating: A
Buy it on Amazon, or at The Book Depository, or add it on Goodreads
Link Up Your Review